Following initial review of all submitted papers by the Scientific Committee, selected authors will be invited to prepare a publication material for inclusion in a scientifically journal. We are in contact with two journals in order to establish an agreement: ANNALS OF FOREST RESEARCH (indexed by ISI Thomson) and Bucovina Forestiera.
We are not longer consider the possibility to include the peer-reviewed papers in a proceedings volume of the conference.

November 25 th 2013 is the deadline for expressing your option regarding the articles publication.    

You can download or view the 2011 Conference Proceedings.
Horodnic, S.-A., Duduman, M.-L., Palaghianu, C. (eds.): Proceedings of the International Conference Integrated Management of Environmental Resources - Suceava, November 4-6th, 2011. Editura Universitatii "Stefan cel Mare" Suceava, Romania.

ISBN 978-973-666-388-8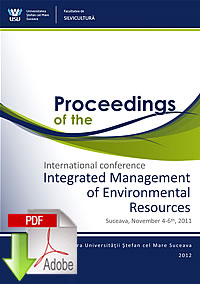 Instructions for authors - for the 2011 proceedings volume



Download instructions for authors



An example of a formatted article (doc)



An example of a formatted article (pdf)